InEight Hospitality Suite at

Western Winter Workshop
Friday, March 04, 2022
Saturday, March 05, 2022
We are ready for Western Winter Workshop and are excited you will be stopping by our hospitality suite. To confirm a time, please enter your information to the right and select a time that works best for you.
We are eager to have a chat and learn more about the challenges your organization faces and how our integrated platform of solutions can help you deliver better project outcomes to your clients.
Don't forget, we'll also have a custom Nike shoe experience for conference attendees and hope you can make it!
Here are the details of the InEight hospitality suite:
Conference Hotel: Renaissance Esmeralda Resort & Spa, Indian Wells
Meeting Room: Malta B, near the front desk lobby (see below for location)
Dates: March 4–5
Times: For specific times that are available, please refer to the registration box located on the right.
You can find us here.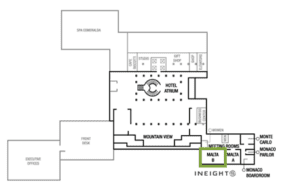 If you don't see any time slots that match your availability or need assistance, please reach out to Jon Liebe at jon.liebe@ineight.com.
See you there!
REGISTER NOW
*Adblocking software must be disabled and Javascript and Cookies must be enabled to access this form.
JON LIEBE
VICE PRESIDENT
INEIGHT
JUSTIN LUDLOW
VICE PRESIDENT SALES NORTH AMERICA
INEIGHT
BRAD BARTH
CHIEF PRODUCT OFFICER
INEIGHT
AJ WATERS
VICE PRESIDENT INDUSTRY SOLUTIONS
INEIGHT