GLOBAL CAPITAL PROJECTS OUTLOOK:
RESILIENCE THROUGH TRANSFORMATION
Top Trends of the Global Construction Sector
Download the second annual outlook report presented by InEight and discover why the construction industry is brimming with confidence despite a new round of challenges. Learn how those with a digital transformation strategy are proving to be the most resilient despite the latest industry headwinds.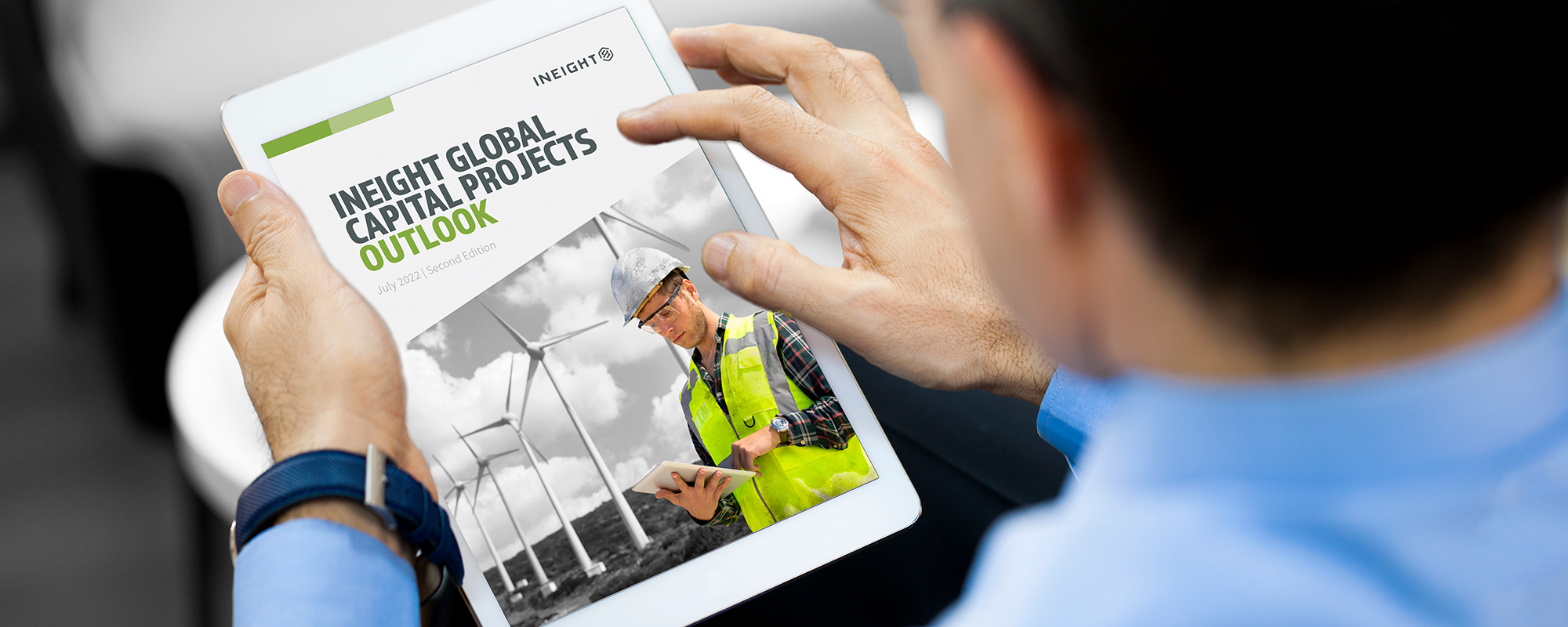 DOWNLOAD NOW
Explore the top global construction trends on digitalization by filling out the form below.
Thanks for contacting us. A member of our team will follow up with you shortly.
With such a strong showing from the sector last year in the middle of the pandemic, it's not surprising to see an even more confident construction industry this year. Encouraging, yes — but not surprising.
-Jake Macholtz, CEO, InEight
THE REPORT'S
OBJECTIVE
This annual survey is designed to gauge general confidence and optimism levels across the construction and capital projects industry. Designed and conducted in conjunction with a specialized global enterprise technology research partner, the report aims to take the industry's temperature and see how digital technology is being leveraged to solve a new round of challenges.
REPORT AND
METHODOLOGY
InEight surveyed 300 of the world's largest capital project owner and contractor construction professionals in the Americas, APAC and EMEA. Survey results were then analyzed and then submitted to InEight experts for commentary based on their experience and vantage points in the industry.
PART 1: CONFIDENCE AND GROWTH
The industry has shown great optimism and resilience as the world seemingly begins to step out of COVID-19's shadow. And despite the ripple effects caused by the war in Ukraine, confidence still abounds in the construction sector. However, there's one particular group that isn't nearly as optimistic.
PART 2: PROJECT CERTAINTY
The report reveals strong feelings of optimism about the industry's future but respondents are still experiencing bumps in the road when it comes to delivering projects on time and on budget. Breaking it down between owners and contractors, one group sees the greatest difficulty.
PART 3: TECHNOLOGY AND DIGITAL TRANSFORMATION
The survey reveals once again that organizations are enthusiastic about their technology investments. But respondents whose organizations are working on 50 or more capital projects are clear in what facet of tech they see the greatest value.
PART 4: HUMAN-CENTRIC DIGITALIZATION
Respondents see a definite benefit to digitalization, but some feel hesitance when it comes to implementation. The report reveals the sector is looking for improved change management with larger organizations seeing the greatest need.
PART 5: EUROPE, APAC AND THE AMERICAS
The survey takes a deep dive into the three regions and dissects their levels of optimism and digital transformation. As you will see, one region has gone from leader to laggard when it comes to having a clear digital transformation strategy.
Read Last Year's

Global Capital Projects Outlook Report