VDC and Digital Twins/Facility
Management in Project Controls
Though project controls encompass an assortment of actions and activities throughout the life cycle of a project, projects of today are not the same as yesterday. The familiar topics covered, such as cost management, virtual design construction, planning, scheduling and risk, are now more complex with additional demands. These demands touch many aspects and require a clear and concise turnover from construction to the owner at the end of the construction and the beginning of the facility management.
There are different concepts or levels of a digital twin especially tied to facility management. Digital twins are focused on many aspects including information at your fingertips to improve collaboration and giving attention to assets in a timely manner.
This discussion will explore how models play an integral part in capturing construction artifacts and turning those over to the owner in an organized digital method and reduce the normal extensive turnover process. Let's dig in!
Capturing Artifacts and Construction Information
For those projects with 3D models at the beginning, it can leverage and extend the federated project model throughout the estimating, design coordination, work package process, visual reporting and creating the foundation of the digital twin.
As 3D models are developed, construction drawings are a bi-product, which are sent to manufacturers and shop drawings are developed. As these shop drawings of steel, pipe, concrete, equipment, etc. are being developed, stored and tracked into a document management process, some are more important to the owner than others are for facility management.
As the contractor receives these documents (plan drawings, details, shop drawings, etc.) and registers them into their document management system, they may simply link these documents to the model for digital organization and quick access throughout construction for all stakeholders. This simple process reduces man-hours throughout the length of the project and each day for those referencing documents to support their work. An end user can select on a desired document and zoom to focus the model objects linked to this document, or vice versa, select an object and reference the linked documents.
In order to use the federated models effectively, the metadata needs to be cleaned up and normalized. Creating useful data for work packaging, unique equipment number, data validation, etc. provides a rich and reliable project federated model to utilize in many aspects of the project including the digital twin.
Digital Twin Foundation and Facility Management
There are a lot of thoughts, questions and articles on digit twin and facility management. And the reality is that owners are at different stages and needs when it comes to facility management. When we think of facility management, we need to think of asset management. Assets come in many forms and sizes. If I am an owner in the infrastructure world, then I have roads, bridges, utilities and more to maintain and inspect regularly.
A model with construction artifacts is a must to be delivered from the contractor. If I am an owner of facilities like office buildings, high rises, hotels, and manufacturing I have many different types of assets that need servicing and regularly inspected. A model with construction artifacts is a must to be delivered from the contractor. If I am an owner who owns electric, water, power, oil and gas facilities, I too have many different types of assets that need servicing and inspected regularly.
Now there are already mature facility management softwares available that many owners use. The question is, how much time does it take to receive the artifacts from construction and then organize and upload data into your facilities management system? Another question is, do your artifacts link back to your federated model for easy access and reference?Having the construction artifacts and additional owner documents and information linked to the federated model provides quick and easy access to relevant information.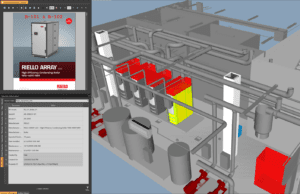 Quickly access serial numbers, model numbers, manufacturer, last date inspected, operational manuals, etc. without looking for or searching for documents within your document management system.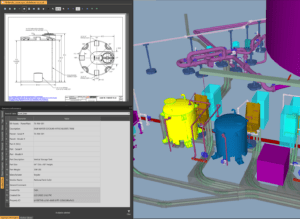 Extending the Model Throughout Project Controls
Going back to the beginning, I shared how VDC+Coordination can start the process of breaking your project into work areas and identifying design issues and have focused conversations to resolutions. Then how VDC+Data Normalization transforms design models into one construction project model by cleaning up, normalizing, and adding custom model data to meet your needs. Utilizing that same transformed project model, extending into VDC+Estimating for quantity takeoffs and validations. I shared about how VDC+Visual Reporting provides a different aspect of reporting enhancing the ability to see things not visible in other traditional types of reporting. Then I dove into how VDC+WorkPackages simplifies the process of creating work packages and provides visual reporting on progress.
As mentioned above, the federated project model now contains linked documents for easy and quick access every stakeholder during the project and is ready for a quick turnover to the owner as the foundation of their digit twin.
Ideally, this should be done in the same model-aggregated software instead of pushing your project models into separate-model aggregated software to execute these different aspects of project controls.
Ready to take a deeper dive? Schedule a one-on-one consultation to find out how InEight can help you succeed in your construction digitalization and VDC journey.
Sign up for our monthly blog newsletter today and stay up to date on the latest industry news.
Sign Up For our

Monthly Blog Newsletter
Thanks for contacting us. A member of our team will follow up with you shortly.