VDC and Visual Reporting in

Project Controls
Though project controls encompasses an assortment of actions and activities throughout the life cycle of a project, projects of today are not the same as yesterday. The familiar topics covered, such as cost management, virtual design and construction, planning, scheduling and risk are now more complex with additional demands. These demands touch many project aspects and require excellent visibility to ensure a successful project execution.
Today, I'm going explore how virtual design and construction play an integral part in these complex projects while reducing issues in the field and clearing up often subpar communications. Let's dig in!
What is VDC and Visual Reporting?
I would say the standard reporting methods include many different formats and applications to communicate different aspects of the project's status. The purpose of reporting is to keep all stakeholders on the same page without question, as to what has happened and where focus needs to be.
Project visualization is all about communication and understanding what you are trying to communicate is vital in the method of format. Trying to communicate "amounts or provide comparisons" is better shown with a bar chart vs a pie chart. A cumulative line chart will quickly communicate trends and a tree map is used for tracking cost and productivity.
There are many Excel-based type reports that still provide the standard reporting for projects. It has taken time and maturity for some organizations to transition from Excel-based reporting to Tableau or Microsoft Power BI for their dashboards of information.
Visual reporting also provides a different aspect of reporting and enhances the ability to see things jump out at you that simply would otherwise not simply by looking at other, more traditional types of reports.
Examples of Visual Reporting
The following visual reporting examples cover different industries and different end users.
By visually reporting construction status via a model, it is easy to see and communicate construction progress, and to visualize any concerning areas of limited construction progress. As an example, trying to envision this in a pie or bar chart just doesn't provide the coherent information that the image below does.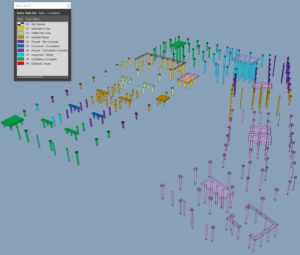 Today, you can utilize dates within a model connected to dates outside the model to identify issues between manufacturing, delivery and construction dates. Not only does this visually identify what will be delivered to the site late, but how much of an impact it could be, as in the following image.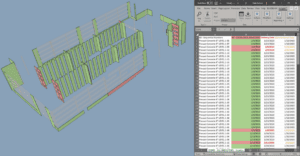 You may also visually report which objects do not meet design criteria, as in this image.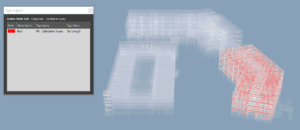 Visually report the status of work packaging is also possible now, allowing you to take any actions accordingly. Clearly communicating project status with the ability to see additional concerns is not generally provided in other types of reporting as it is in the example below.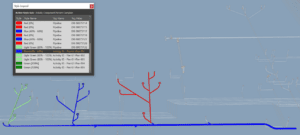 Visually reporting engineering status of deliverables to mitigate possible construction delays and devise a plan to work around late design deliveries is also possible, as within this image.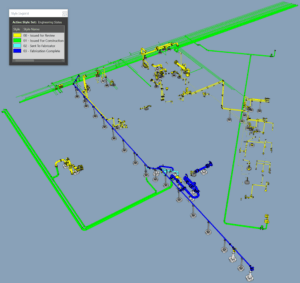 Not only can you communicate construction status, but you can also visually see anomalies that need to be addressed, as in the image below.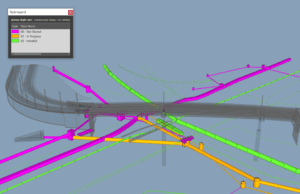 In addition, you can communicate where different crews are working in what areas and identify any concerns that need to be addressed, as in this image.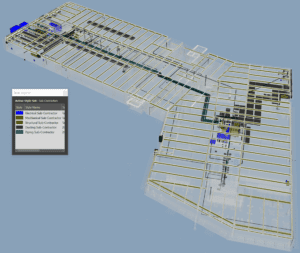 These are just a handful of the many examples of dhow model-based reporting provides clear insights of project situations, risks, and progress.
Extending the model into other project control areas
In my previous blogs of VDC + project controls, I discussed the value of aggregating all discipline models and executing coordination within your one project model. Extending that coordinated model into data normalization, transforming that design data into construction data making it useful in estimating.
As the model is used for visual reporting, it can be extended into other project controls areas, such as planning scheduling and risk (model connected to advanced work packaging), field execution (model providing the visual of claiming and/or validating work executed), document management (link your document to the model), and much more.
Ideally, this should be done in the same model-aggregated software as opposed to pushing your project models into separate-model aggregated software to execute these different aspects of project controls.
Ready to take a deeper dive? Download the full report here, then schedule a one-on-one consultation to find out how InEight can help you succeed in your construction digitalization and modeling journey.
Sign up for our monthly blog newsletter today and stay up to date on the latest industry news.
Sign Up For our

Monthly Blog Newsletter
Thanks for contacting us. A member of our team will follow up with you shortly.