Technology-Enabled
Knowledge Sharing for

Capital Projects
Knowledge and human intelligence are often considered the most valuable asset for any organization. As humans, we learn by asking questions to seek knowledge. What's important is that organizations promote a knowledge sharing culture, to ensure that information is available to those who may need it. Today, especially when project teams are remote and geographically dispersed, absence of a structured and consistent way of doing things will result in potential delays and lost productivity.
An organization cannot thrive if its employees do not share knowledge and collaborate with one another. Companies that want to emerge as leaders and deliver projects successfully must transform how knowledge is captured, secured and shared, as a digital asset or intellectual property.
It's also important to recognize that your long standing and highly experienced resources won't stay forever. Once they leave, their experience and knowledge leave with them. The senior employees of your workforce bring invaluable knowledge and have skills that younger workers must take time to develop. Fortunately, technology solutions can assist to ensure your experience is captured into a digital asset everyone can learn from as collective knowledge.
Why Knowledge Sharing is Essential
People are ultimately the source of knowledge. We create, share and apply knowledge. Retaining and sharing this knowledge and experience helps develop strategies, best practices and improve business processes. Every project provides valuable experience and lessons learned by the project team. Learning from these experiences is therefore an indispensable part of the project management evolution.
Effective knowledge sharing and analysis will allow organizations to benefit from:
Improved productivity and efficiency
Improved collaboration between project stakeholders
Empowering project managers with data-based decision making
Deriving insights from past project experiences
Understanding lessons learned
Preventing repeated mistakes and rework
Efficiently determining the cause of issues
Reduced risks
Improved project confidence
In recent years, the practice of storing knowledge as "data" has grown exponentially. It is changing the way organizations work, and project management is an important area positively affected by these changes. Leading companies are leveraging their knowledge and experience to improve their growth and gain competitive advantages over time.
Collaborative Intelligence — Human and AI
Most organizations value the importance of capturing and reusing knowledge as a strategic asset. However, they struggle to apply those learnings to future projects. The basis for a project's success is the upfront planning. Project managers normally use a software application to develop a project plan, however, the accuracy of a plan is highly driven by the quality and realism of the inputs into it.
At the same time the knowledge used to build that plan is not available all in one place. It is often held by subject matter experts who have previously delivered projects successfully using their domain knowledge and experience. A project plan without shared knowledge is incomplete and likely to deviate from the agreed scope, schedule and budget. Organizations experiencing this will continue to struggle to develop reliable project plans that reflect the available knowledge.
Today, next-generation technology can provide a platform to leverage the knowledge and brainpower within your organization. Projects can now benefit from collaboration between humans and artificial intelligence (AI). To get the best from this collaboration, however, we must understand how humans can effectively "augment" AI and how this partnership can enhance what we do best. Augmented Intelligence is a people-centric approach to use our knowledge and experiences, i.e., human intelligence and AI working together to enhance business processes.
With technology, organizations can progressively develop their Knowledge Library. This will offer a unified view of the knowledge assets captured, such as project plans, schedules, estimates, risks (threats and opportunities), resources, productivity rates and other valuable project information (see figure below).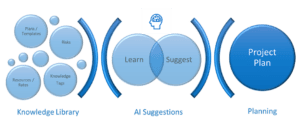 This will facilitate capturing insights and learnings from prior projects and use the stored knowledge to make better-informed decisions. Capturing this enterprise knowledge will also enable augmented intelligence to guide users through the project life cycle.
By harnessing augmented intelligence, the system will learn from stored knowledge and offer smart suggestions so that we can easily leverage and use the right information and expertise whenever needed. This collaboration can help with much more than developing schedules and cost estimates. Using AI suggestions that look at data from past projects, organizations will be able to forecast with a higher degree of confidence how much time a project will take and how much it will cost.
Furthermore, project managers will be able better plan the most efficient path for delivery of the project, using insights drawn from past projects.
Capitalizing on Years of Project Experience
Research shows an increasing demand for project management globally. The Project Management Institute expects 22 million new project management opportunities in the next five years, and that by 2027, employers will need approximately 88 million individuals in project management roles.[1] In addition, organizations will face the risk of a talent gap in the coming years. So, it is more critical than ever before to capitalize on the domain knowledge and experience acquired while delivering projects.
Strategically, organizations are moving quickly to capture their project experience to help better understand how they are planning and performing compared to historical data and the current market. Project managers are increasingly benchmarking projects to improve their planning accuracy and to validate and compare performance.
Through collaborative intelligence, project teams are now able to draw from collective expertise and shared learnings. Capitalizing on individual project experiences, organizations can stay ahead of the curve by continuously learning and improving their project management capabilities.
Ready to take a deeper dive? InEight can help get your projects where they need to go and help you create a solution or view that matches your needs while leveraging your teams' existing strengths. Let us show you how.
[1] Project Management Job Growth and Talent Gap 2017–2027, PMI, 2017.
Sign Up For our

Monthly Blog Newsletter
Thanks for contacting us. A member of our team will follow up with you shortly.