Making the Right Connection:
InEight and Viewpoint Vista
At InEight, we build project management software based on our deep understanding of the data flow for each business process that a project goes through whether it's estimating, project controls, procurement, material management, design or engineering. But then we take it a step further by connecting all of them under one common platform, which offers our users a much more powerful, unified and highly efficient solution overall. 
Recently, we sat down with our friends at Ryvit to explore that flow and the data sharing between InEight and Viewpoint Vista™, plus Ryvit's role and what all of this means for customers. 
Natural Partnerships
Vista, the industry-leading ERP solution for construction, is one of the most popular ERPs on the market because of its attractiveness and ease of use in the way it's set up. We've seen a lot of clients with manual processes, for instance, but their ERP is Vista with everything dialed in on the Vista side. In addition, we've seen a lot of similarities between how Vista is set up and how we're set up at InEight. Considering all of this, we decided that it made sense to integrate with this ERP, offering our customers one more powerful tool that can help them run and grow their construction businesses better.  
When we began looking at some of the Vista integration partners in the market, Ryvit's name came up first on the list as Vista subject matter experts. Our conversations started with Ryvit CEO, Tom Stemm, and the early beta customers as we worked to bring this flexible alignment together. 
How's it going? We feel it's actually changing the game for a lot of construction companies that come to us, because they look at the partnership as one less thing for them to worry about on the ERP side of things.
A Customizable Solution
According to Stemm, one of the core reasons Ryvit exists is to help fill a certain ability gap that most construction companies have that are using a construction-specific ERP. "They lack the capabilities of having an open API, having access to the data that you need now to move around your tech stack," he says. "As solutions like InEight have come into the market, they address a lot of the problems that a construction company has with their teams around collaboration, internally or externally, and in terms of how they're working through their process to 'build the building.'"
The capability that Ryvit has built out within their solution is what enables a partnership with InEight to come online and create the type of enhanced data profile and data integration that customers can now experience. It's really all about having a more predictable process to move data at the appropriate times and at the appropriate points in the workflow, all in order to get that data back and forth between the systems in a way that's unique to them.
"I think one of the things that has made this process a good one from Ryvit's perspective is the capabilities of the InEight platform," Stemm explains. "They have an open API which helps out a lot in terms of our ability to access and read and write data in and out of the platform." This also helps in terms of the connected data profiles InEight has. "The uniformity around how data is presented enables customer A to use this integration a little bit differently than customer B," he continues, "Then a little bit differently than customer C, etc. because InEight's flexible platform allows teams to be more efficient." 
The Vista/Ryvit Connection Advantage
Since Vista can be customized by almost any user, the challenge now becomes one of process. What's the workflow look like? What does the data exchange need to be? "InEight has its data model and Vista has its data model, so we create what we call a 'contract' between those two systems, so that they know how to speak to one another," Stemm says. "Working with select customers has helped us work out all the different configurations that exist in their environments for how they have InEight setup and how they have Vista set up, so we can create a predictable, turnkey ERP experience."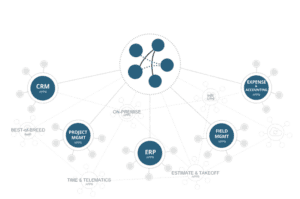 One of the biggest benefits to customers is the ability to collect all data from the field in their daily planning processes. Time, equipment hours, labor hours, quantities, etc., all have automation back to Vista. This means that all the module data that needs to get inserted into the ERP is being automated back from InEight. In essence, the project team can "live" in InEight. They can manage their budget and do all their change processes as well. And in terms of change management and cost management, all of that activity, even forecasting, can all be done now on the InEight side, saving time and frustration. 
Ready to see how the InEight-Vista Integration works? Check out the live demo, plus customer Q&A, here!
Blog Tags
Sign Up For our

Monthly Blog Newsletter
Thanks for contacting us. A member of our team will follow up with you shortly.