InEight Wins Best Relationship Award from TrustRadius
InEight's customer success teams have one mission – to help our customers get the most out of their software investment. We focus on sharing our deep industry knowledge and expertise with new clients during onboarding, implementation and continuing support throughout the life of their partnership with us.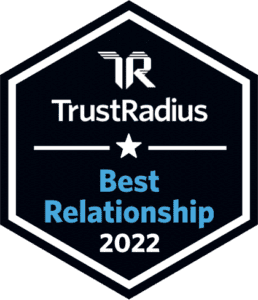 InEight Helps Our Customers:
Clearly define business processes
Drive adoption in a dynamic & multi-generation workforce
Get the most from our software through online and in-person training
Realize their anticipated return on technology investment
Proven Implementation Methodology: InEight customers realize smoother adoption and improved processes through our waterfall, phase and milestone-driven methodology for software implementations.
Organizational Change Management: We support user adoption through a people-centric approach to change management. Our methods help customers execute their desired strategy by driving positive, sustainable change through their greatest asset — their people.
Knowledge Portal: Customers can easily access training and certifications from InEight University and our Learning Center. Plus, customers can access reports, forms, checklists, workflows, and more from our Rapid Start Library.
Best-in-Class Support: Get the support you need from a highly experienced support team with industry experience. Our global support team is available 24 hours a day/365 days a year.  Any time of day or night, we can assist you by email, over the phone, through live chat and remote sessions.
We are proud to receive this recognition for Best Relationships from TrustRadius. We are even more proud of the fact that our customer support satisfaction is over 97%.[1]  Everyone at InEight is passionate about driving the industry forward. People with like minds wanting to push the boundaries – that's what is behind our successful customer relationships.
FIND OUT FOR YOURSELF WHY INEIGHT
GETS GREAT REVIEWS
[1]InEight's 2021 customer support satisfaction averaged 97.4%