The What and Why of Hard and Soft
Clash Detection
Clash detection has come a long way. Long before 3D models were a thing, we were identifying design issues by executing a manual check of design drawings. Though this manual process was satisfactory, it was not nearly as effective as today's advanced 3D software where you can pull all of your disciplines into one model, one source of truth, and execute your clash detection processes from there.
Even using today's best software solutions, I have noticed that clash detection responsibility and processes are executed differently depending on the industry. For example, in the Power or Oil & Gas worlds, clash detection is generally done within the engineering office. In the building world, clash detection is usually managed by the construction management company. The industries may be different, but the intent is the same; to resolve design issues before construction execution.
Though the following discussion is likely not new to those already living in these worlds, it will hopefully prove insightful for those just getting into clash detection, working to resolve design issues or simply looking for a clear explanation of the what and why of it all. Therefore, it's best to begin at the beginning.
What are building information modeling (BIM) Hard Clashes?
Hard clashes are what you might expect them to be; two geometric objects intersecting the same 3D space, thus a clash. Clash detection software, therefore, lends a hand with flexible rules to help identify such intersections. It affords you the ability to test clash two or more different discipline models to each other or even clash the same discipline model to itself.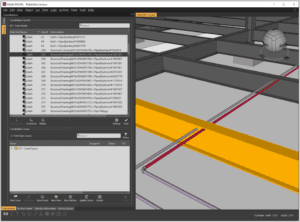 There are times that model objects are touching each other by design, and you don't want to manage each one of those clashes to simply approve them. In this case, you can use software options to ignore clashes that are, say, less than 1/64" into each other.
A few examples of this type of issue would be where piping is supported by pipe supports or laying on a pipe rack or a pipe shoe touching a pipe rack. These are acceptable clashes as long as they don't protrude into each other.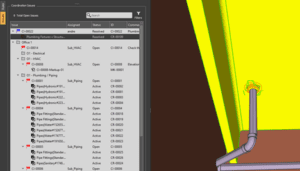 What are BIM Soft Clashes?
Soft clashes are mostly used to identify and validate safety and regulations that are captured within the design. Clash detection software provides the ability to extend objects to help identify and validate if a safety or regulation is being met or not.
One such example of utilizing clash detection for soft clashes would be checking the distance between fire extinguishers within a building according to codes. Another example might be checking on a power plant for valves that are within 50 feet of a natural gas pipe flange to validate that those valves are explosion proof.

Helpful Best Practices for Clash Detection
How do you put the best of clash detection software to work for you? From what I've seen, I believe that it is very helpful to break up or section your discipline models into areas for focused clash detection as opposed to clashing all at once. By sectioning your model into areas, zones, or work packages, you can focus on specific design areas and resolve them by working with the discipline designers before models and drawings get to construction.
Another smart practice is to create clash rules that can be used for all sections of the model to minimize the rule creation and expand on their utilization. Then manage your Issues by grouping them together in the same way you sectioned your model and then by discipline.
When it comes to today's best clash detection solutions, InEight Model provides the ability to minimize your clash detection efforts with flexible rules and maximize your ability to meet safety requirements and regulations. Model also provides you the ability to group like clashes into coordination Issues, assign responsibility, track and resolves issues within the application.
When you're ready, schedule a demo with InEight and let us show you how.
Sign Up For our

Monthly Blog Newsletter
Thanks for contacting us. A member of our team will follow up with you shortly.