Creating Construction Project
Certainty in an Uncertain World
The ever-evolving situation involving COVID-19 cases across the world is causing uncertainty in our work and private lives, forcing us all into what has been termed the "new normal." During such unprecedented times, the impacts, particularly concerning project risk, of COVID-19 are also rippling across construction sites and organizations' project portfolios. Prior to the pandemic, construction represented 13% of global GDP[1] — a significant contribution to the world economy, but also a potential area of project risk, given the typical schedule and cost overruns, slow productivity growth and single-digit profit margins over the last two
decades.[2]
While many construction projects appear to be continuing on their ordinary courses, the construction industry is, in reality, facing stronger project labor shortages, productivity and supply chain issues as well as financial pressures. In addition, new safety regulations and slow progress continue to increase the project risks associated with schedule delays and disruption, resulting in a rise of new claims and disputes.
Therefore, now more than ever, we must recognize that a new level of uncertainty needs to be not only acknowledged, but further assessed to ensure project confidence, team morale and ultimately, the future success of construction projects worldwide.
Managing Project Confidence with "Virtual" Strength
In the best of times, project-driven organizations have a need to improve their resilience and confidence to help ensure their project teams' well-being and productivity. This is to minimize disruption to project success. Owners, contractors and subcontractors should always be ready to take necessary steps to prepare for the impact of ongoing issues and potential risks on their projects. Considering that projects can fail often because they are unable to manage uncertainty and expectations, the layering on of uncertain times only serves to intensify this situation.
In addition, we are seeing an increasing number of COVID-19 related notices claiming extension of time and cost claims. Therefore, owners and the general public are increasingly expecting improved confidence and certainty during various phases of construction.
Therefore, it is critical to plan and assess the impacts of construction claims by managing uncertainties and project risks more thoroughly. This requires implementing effective confidence management tools, including schedule risk and delay risk analysis methodology during the entire life cycle of a project.
Using the advanced tools that today's project management software can offer, organizations can enhance certainty and predictability to capital projects in a proactive manner. Many organizations, including those we at InEight work with directly, have decided to perform most of their project management work virtually in response to the spread of COVID-19. This has resulted in increased adoption of cloud platforms, supporting virtual teams and project collaboration.
At InEight in particular, we are assisting our customers with their digital transformations by fully embracing virtual collaboration and technology to empower their project teams with confidence.
The Role of "Augmented Intelligence" in Project Risk Analysis
Next-generation planning, scheduling and project risk applications use what is now referred to as augmented intelligence to guide users through the project planning process. Some can even capture insights and learnings from prior projects and use the stored knowledge to make informed suggestions during the planning process.
As project management professionals, one of our most important roles is to bring out the best in our team. The right applications can help to capture feedback on schedules from experts on organizational teams through a simple mark-up process.
For instance, ideally, your team will have the ability to provide their feedback in a simple scorecard view and by interacting with their schedule timeline. Team members can then add project register items in their feedback including risks, ideas, opportunities, issues, potential claims and change requests. Each team member's feedback is captured in their own personal plan "redline." Then the lead planner can control when and how the feedback from their team is incorporated into the project baseline. (Figure 1)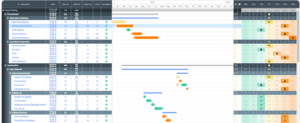 (Figure 1)
This collaborative schedule review process also ensures that subject matter experts are involved during every step of the project planning process, resulting in a project team's full buy-in. This buy-in is important because it is not only crucial to the success of the project, but it is also necessary for a commitment to schedule and execution confidence and taking the project forward with a clearer view of project risks and potential claims.
The Value of Intelligent Schedule Risk Analysis
Within today's advanced project risk management tools, the right risk analysis process is a game changer. Certain risk models and events can now be defined using an innovative approach leveraging the following types of intelligence: (Figure 2)
Artificial Intelligence (AI) – These are suggestions from the system with a distribution from the historical norms in a Knowledge Library
Human Intelligence (HI) – Input from team members and subject matter experts
Risk Intelligence (RI) – Selected from a range of distributions ("very conservative" to "very aggressive") or from a custom range

(Figure 2)
Put simply, project uncertainties can be based on input from team members (HI), selected from a range of distributions (RI), or a distribution suggested by the AI.
Further, a risk-adjusted schedule can be formed "on the fly" as plans are being developed in real time. This enables teams to quickly identify and assess uncertainties and events (risks, opportunities, issues, schedule delays, claims, etc.) and track these in the register with the contingency required by seeing all possible outcomes from best case to worst case.
Looking Ahead to a Greater Certainty
As COVID-19 continues to impact all aspects of our lives, forcing us all into a "new normal," we have recognized that uncertainty needs to be further assessed for capital project confidence and teams' morale, but often we have lacked the right tools to achieve this goal.
But now, at the click of a button, intelligent reports can be produced with tools such as those provided by InEight, showing the events and the project risks that will have the most impact, providing project stakeholders with increased visibility of events, schedules and cost impacts.
Acceleration of a positive path forward is now possible ensuring greater project confidence. By looking after our teams and taking control of our projects to drive certainty, the project risks causing uncertainty can now be better managed, yielding more successful — and more predictable — outcomes.
[1] The Next Normal in Construction: How Disruption is Reshaping the World's Largest Ecosystem. McKinsey & Company, June 2020.
[2] Ibid.
Blog Tags
Sign Up For our

Monthly Blog Newsletter
Thanks for contacting us. A member of our team will follow up with you shortly.