Beyond Digital Transformation:
RSGx Implements a New Brand of Project Confidence
If there is one positive realisation to come out of the past year for the construction industry, it's that with the right technology in place, people can effectively work remotely on everything from schedules to planning to engineering, right through to construction, no matter the size or complexity of the project. This has helped transform the industry's reputation from "boots on ground" to multi-disciplined and high-tech, enhancing collaboration in the process.
So, what does this type of shift look like and how can it be used most effectively?
We sat down with Regional Manager Kris Caplice and Director David O'Riordan of RSGx in their Australian headquarters to find out how they are using digitalised technology to its best advantage, why they chose to work with InEight, and the unexpected benefits they've discovered along the way.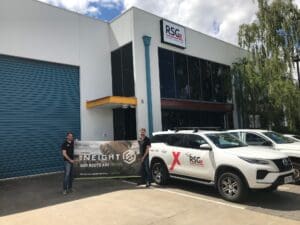 A Culture of Growth and Respect
As Regional Manager, Caplice is responsible for running the Australia region, and that's no small feat.
"We've grown pretty quickly over the last couple of years and now have a higher number and more varied types of projects we're really passionate about; mostly in mining, infrastructure, renewables, and oil and gas," he explains. "And with the Australian Government set to spend a lot of money on infrastructure over the next five to ten years, our pipeline is looking better than ever."
"Money is cheap," adds O'Riordan. "The Australian government is heavily investing in tunnels, rail, roads and hydro projects. Each State is recording record investment. To put that in context, South Australia, one of Australia's smaller states has budgeted 8.8 billion in critical road and public transport over the next 4 years. This is a fraction of the budgeted infrastructure spend over the same period in Victoria of $69 billion and New South Wales of $108.5 billion, of which $71.5 billion is towards delivering road and rail projects."
Australia's land mass is roughly the same size as the U.S. but compared with the population of the U.S. of about 330 million, Australia's population of 25 million is a fraction of that. Most of the Australian population is based in five or six major cities, so large parts of Australia are extremely remote. A lot of the major spend of these budgets are in metropolitan areas and some, as with the hydro, solar, wind, road and rail projects, are more remote.
"We love remote projects because they are a challenge," O'Riordan says. "It means that every Tom, Dick and Harry can't show up looking to perform. Our clients need a company that is as well organised as it is experienced at delivering on logistically challenging projects."
To be a successful company in delivering complex projects requires a level of performance that is held by few.
For O'Riordan, it all starts with culture, leadership and a feeling of inclusion: "I think you have to have a certain type of leadership to have a strong team. When you're good at what you do, you gravitate to other people who are good at what they do. In turn, these people help to set the tone on safety, delivery and client expectations.
"There's a huge amount of respect at RSGx and a real family feel," he continues. "There is an expression that says, 'you can't give a job to someone if you're not willing to do it yourself.' And Kris has proven this hypothesis. Everyone knows he's been in the trenches and he's seen it all. That's the kind of culture we have instilled here at RSGx."
The Search for Collaboration
Because of the growth they've experienced, both Caplice and O'Riordan agree that it's essential to find construction project technology that supports a collaborative culture.
"We have a lot of high achievers and people who want to learn and improve," says Caplice. "We're very competitive and want to beat the next guys who come along. So right from the very start of the business, we've always asked, 'how can we do this better?' We became a Microsoft Gold partner early on and invested in our IT systems and network straight away. Because of this mindset, we started looking for our software solutions from day one."
After reviewing and trying out several different brands, they found InEight. They looked at things like digital permits to work systems and similar areas that the software could help them to improve for project delivery and customer experience. "One of the things that we most liked about InEight was that we were able to kind of pick the bits we wanted now and then hold off on the modules we might use in the future as our needs changed," Caplice says.
They're also finding that by choosing technology that matches RSGx's talent level, they are fulfilling a desire to improve the industry as a whole.
"The construction industry is notoriously slow when it comes to adopting anything new, especially technology," Caplice says. "That's why we're pushing to improve the industry by making things more process-driven. We can either try to grow and not scale, which is what so many other companies do, or we can invest in the right processes that are going to work consistently for us, so we don't have to run around putting out fires all the time."
Change is hard, and the team knows this. "One of the things we deal with, and I assume that InEight deals with all the time too, is that when you go to a client that's been around for, say, a hundred years, it's harder to get people to adapt to technology solutions," O'Riordan explains.
"So, we're going to set ourselves up to adapt to the technology upfront and be able to implement best practices as soon as they're available. InEight slots into this plan in a very visible, adaptable way, which helps us help our clients."
Choosing Inclusive Tech
As they were evaluating the finer points of what technology choice to make, there were some definite items that drove them toward InEight. Caplice recalls: "It's always interesting to look back on decisions like this and our perspective. With InEight, there's nothing out there that we could find that was even similar, that could do everything InEight did.
"Because we work with loads of different clients and loads of different industries, we have no choice but to be nimble in the world. InEight gives us more flexibility to be able to provide the different sets of deliverables, that each client is going to want."
Caplice uses this example to better illustrate: "Let's say there's a lump sum project. What deliverables do the contractors have to provide? It's the same stuff, every time. But InEight gives us visibility for our clients so they feel confident when we give them this type of data. It's reassuring to them. We can bring the client along on the journey with us."
There's also a feeling that this is what is lifting RSGx above their competition to do a lot more for their clients. "A lot of companies in our area will aim to be a tier one. And then other companies will be happy being a tier two or a tier three, which is subcontracting into our clients, as we do, or subcontracting to a company like us," O'Riordan explains.
"We very much see ourselves as that niche tier one area. So, we have to have the right systems and controls in place if we want to be taken seriously, to have control around our costs — and to give our clients a chance to see exactly what we're capable of."
Digging into Data and Breaking Down Silos
Thinking back to what Caplice said about preferring remote and difficult projects, there is, of course, the question of covering all the details.
"There are millions of things happening in all these jobs at the same time. There are so many interfaces and multiple contractors and so much data," he says. "So, we want to show the clients that we can get the data, measure it and log it and then present it in a format that matters to them."
Being able to also present more complicated interfaces in a simplified way is a huge plus for RSGx and their clients. "Having worked on the other side of the fence, we feel our clients' pain. With the InEight dashboards, we have all the information available at the touch of a button, in real time, which we know they have not seen," says O'Riordan.
Silos are a problem for every industry and no more so than for construction. "For most of our clients, they are used to silos, they don't realise that there is another way," says Caplice. "So, what we want to do is to be able to take all the data that we have and present it in a manner to all their stakeholders with a single source of project data that just blows them away — and makes them look very good in the process."
Gaining a Fresh Perspective
The improvement in project flow that the RSGx team has experienced since their implementation has made a big impact on top of the software's capabilities and features. "We've got a really nice, structured process now that continues to evolve," says Caplice. "The workflows are a lot more clearly defined and automated. We still have a long way to go, but we know it's going to be great based on what we've already experienced."
The team is also amazed at what they can do now that they didn't even know they wanted to before. "Every time I ask our project guy if we can do something, he says 'yes' now. We get so much clear, direct feedback from our people. So, when I give it to him, he's able to translate it into actual solutions," Caplice says.
"We are doing a digital implementation. That means we're taking the tools that InEight has and tailoring them a little bit to get to where we think best practice is going to be. And then we're modelling our business process, on what that's going to look like," he adds.
This way of thinking has given the team new flexibility and freedom from feeling like they're trying to build their own software.
With a background in computer science, O'Riordan has carefully watched the evolution of SaaS. "From when I started in the industry in 2007, it was the rise of SaaS. And you could just see the whole model of major ERPs come and go. So, we feel that where we are at now is a really strong, solid middle ground."
Looking Ahead for RSGx
For both Caplice and O'Riordan, the company's success comes down to what they can offer their clients that is unique and truly useful to them, and that means meeting them where they are.
"We're flexible. We can provide better visibility than our competition," says Caplice. "We're not afraid to go out of our comfort zone to do things in a way that's going to help our clients and projects get to where they need to go now, and that means investing in the right tech so we can provide that innovation, flexibility and great culture."
RSGx plans on continuing its large investments into major IT rollouts well into the future. "There's another road project coming up soon," he says. "We normally hear, 'We want the cheapest price right now.' But now more and more of our clients are saying, 'We want to try and do things differently.' Those are the people that we want to be on a journey with. When things are done right, it can be the cheapest price in the long run. And if they haven't used the tools that are available to them yet, we can show them how."
"This is what we need to do for our clients; to give them the things they may not even realise they needed, or that they wanted. But once that they have it, they can't live without it. That's us in a nutshell," Caplice explains. "We're going to be here. And we're open for business."
About RSGx
Resource Services Group (RSGx) is a provider of innovative, multidisciplinary, and integrated mechanical and electrical solutions in the oil and gas, mining, infrastructure and renewable industries in Australia, North America, UK, Africa and the Middle East.
RSGx provide a suite of service solutions to our valued partners, throughout the project management lifecycle from front end engineering and design, construction, completions, commissioning and start-up, through to maintenance, occupations and shutdowns.
RSGx consider culture to be the single most important aspect of a successful organisation and believe the safety and wellbeing of our people to be the driving force behind this culture. Our values underpin a positive, collaborative, inclusive and motivated workforce, which is key to ensuring the viability and sustainability of our business.
Sign Up For our

Monthly Blog Newsletter
Thanks for contacting us. A member of our team will follow up with you shortly.