A CDE for Today:
Common vs. Connected
Data Environments
With so many megaprojects in the construction industry these days, it's no wonder that contractors are looking for more and better ways to deliver on their proposals and best estimates, always seeking to improve cost, time and accuracy to meet market demand.
In addition, asset owners (generally the client or end user) are asking for more data at project handover, putting more pressure on the already depleted resources of contractors and consultants. What is driving this need? Primarily, government mandates around building information modeling (BIM), the evolution of digital engineering execution plans (DEXPs) and the ability for the latest software solutions to deliver more than ever before.
Designers, contractors and asset owners already have a problem managing data, with 96% of all data captured during projects going unused[1] and 30% of initial data created lost by the time of project handover.[2] These problems can impact projects in major ways, including rework, time wasted looking for data, and money lost trying to manage poor or incorrect data.
What Can Be Done?
How can we manage our data better, with more consistency and how can we save money, reduce timescales, and improve accuracy?
By enabling better data collaboration across disparate project teams. This is a key component in achieving the "holy grail" of improved project delivery. We need accurate data, in a timely manner that is shared across our critical projects. In years gone by, this was all about documentation – drawings, specifications, datasheets and project information to be shared with the team. This brought about the advent of engineering document management systems (EDMS) to manage that project information in a collaborative format.
These days, the landscape has completely changed. It's not only about the documentation anymore – we are talking 3D models (preferably as a BIM deliverable), project estimates, schedules, forecasts, contracts, change documents, work packaging and handover documentation that includes data requirements for the asset owner, not to mention the need for reporting and dashboards so we know how projects are tracking. The EDMS has become a part of the data collaboration piece that is now focused on a shared project environment.
The Traditional Common Data Environment
The common data environment (CDE) is traditionally understood to serve as a project environment that contractors are turning to today as a resolution to the data issue.
The original concept around the CDE can be described as a single source of information used to collect, manage and disseminate documentation, the graphical model and non-graphical data for the whole project team.
The idea behind this version of the CDE solution is to give all project stakeholders a single point to go to for all information. It is a single environment for all project data throughout the project life cycle. The assumption here is that all users from all project phases (design, construction, handover) are working in the same environment. Permission controls are in place to determine who can access what information. The primary issues to be considered with this environment are around security, work in progress – specifically in the design phase with federated models, etc. — and native filetype sharing capabilities.
Connecting People and Processes: The Three Pillars
Though the initial definition of a common data environment is workable, a more recently adopted definition and model is serving our industry in more impactful ways. We may understand this new version as an environment of connected data software solutions used to collect, manage and disseminate documentation, the graphical model and non-graphical data for the whole project team; a connected data environment.
As you can see from the image below, this new version of the CDE contains three different pillars or environments, but the key is that they are all connected. This enables a digital thread of information to travel through all environments seamlessly. Design information, though in its own controlled environment, can be shared throughout construction with the project owner (or operations) easily through the overall connected data environment.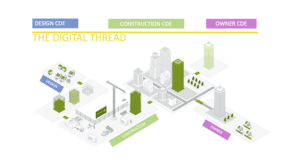 Understanding Asset and Project Life Cycles with Connected Data
We are certainly seeing more adoption of this connected data solution as it enables an open-standard style of delivery. The digital thread is becoming the key as project stakeholders have realized the importance of data, and its availability, throughout the asset life cycle. Note that we are talking about the asset life cycle, not just the project life cycle. Asset data and the digital thread start at the concept phase and are a consistent theme for the life of the asset until it is decommissioned. Therefore, the connected environment has become more important to enable the data flow over time and for the different stages of the asset life cycle.
The concept behind the connected data solution is to enable project phase teams to utilize their own environments, with the single source of truth residing in its own area. The "single source of truth" is then available to other stakeholders, outside of the environment, through native integrations or through application programmable interfaces (APIs). This becomes especially powerful when you consider the basic phases of design, construction and ownership. These three groups of stakeholders will often have their own environments with their own data requirements and use cases.
Design teams can work in their own design CDE with work in progress (WIP) design models that can then be published to the construction or owner CDE when ready for review. The construction team can in turn use the published models for estimating takeoffs, verifying model data, creating work packages and tying in to the EDMS, etc. without affecting the WIP models that are still in the design phase.
This connected construction CDE becomes the key point for collaboration between all parties as project execution commences, considering contracts, forecasting, field work management, documentation and drawing review, etc.
Creating Win-Win Outcomes with a Connected Data Environment
As project execution draws to an end, the construction team begins thinking about project handover documentation to the owner. This comes in many forms including drawings, documents, models and other project data as agreed during the initial contract negotiations. This is also the point where the owner is thinking about their own CDE and the asset management platform. Thoughts are now moving to operations and maintenance (O&M), the project digital thread of information being supplied at handover and potential digital twin management.
As the design and construction CDEs come to a close, the owner needs to consider how to integrate all the project deliverables — specifically drawings, documents and data relating to the asset — to the asset management system. The final asset deliverables tend to stay in the owner CDE, with specific asset information around O&M, work orders, maintenance schedules, etc. residing in the Asset Management system. The ideal scenario is to have these linked to ensure there is a single source of truth for all asset information once the O&M phase begins.
Operators and maintenance crews need to be sure they have up to date, accurate information. The best way to ensure this is the adoption of a connected data environment — from project inception through execution into operations where data is stored in the right place to be available at the right time for the right user.
Ready to take a deeper dive? InEight can help get your projects where they need to go and help you create a solution that matches your needs while leveraging your teams' existing strengths. Let us show you how.
[1] Digging for the Big Data Gold in Today's Construction Projects, Vertex, October, 2017.
[2] Operational Readiness: Bridging the Gap Between Construction and Operations for New Capital Assets, Reliability Consulting, November, 2018.
Sign Up For our

Monthly Blog Newsletter
Thanks for contacting us. A member of our team will follow up with you shortly.